Caliper Collar & Bolt
Offset Collar Kits for Brembo Radial Mount Calipers

One kit includes
four offset collars and
four stainless steel cap bolts. 

■Click here for compatibility list by model (PDF)

An original color version can also be ordered! !


Stainless steel Caliper collar set for DAYTONA 675/R φ310 discs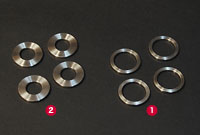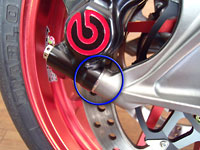 1
DAYTONA675 (2006-) KOK-1501
2
DAYTONA675R (2011-) KOK-1502
The collars are used to adjust the existing caliper position when the Brembo φ310 disc is mounted on the Daytona 675 whose standard disc size is φ308.


Offset collars for Brembo Radial Mount Calipers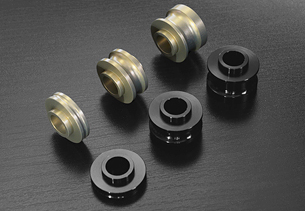 Radial mount offset collar 4 pieces
Offset: 5/7/8/10/12/13/15/18mm Color: Hard anodized / Black anodized
*"HA" and "BK" at the end of the part number are"hard anodized" and "black" respectively.

| | |
| --- | --- |
| KOK-1009HA/BK | 18 mm offset (convex front, concave back)  |
| KOK-1004HA/BK  | 15 mm offset (convex front, concave back)  |
| KOK-1006HA/BK  | 13 mm offset (convex front, concave back)  |
| KOK-1008HA/BK  | 12 mm offset (convex front, concave back)  |
| KOK-1005HA/BK  | 8 mm offset (convex front, concave back)  |
| KOK-1007HA/BK  | 7 mm offset (convex front, concave back)  |
| KOK-1001HA/BK  | 5 mm offset (convex front, flat back)  |
| KOK-1003HA/BK  | 10 mm offset (convex front, concave back)  |
| KOK-1002HA/BK  | 5 mm offset (convex front, concave back)  |
Bolts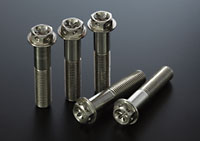 Stainless steel flange bolts with wiring hole (2-piece set)
| | |
| --- | --- |
| KOK-1010F | M10/P1.25 Neck length 50mm |
| KOK-1011F | M10/P1.25 Neck length 55mm |
| KOK-1012F | M10/P1.25 Neck length 60mm |
| KOK-1013F | M10/P1.25 Neck length 65mm |
| KOK-1014F | M10/P1.25 Neck length 70mm |
| KOK-1015F | M10/P1.25 Neck length 75mm |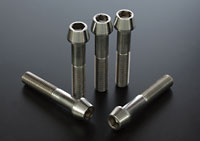 Stainless steel taper cap bolts (2-piece set)
| | |
| --- | --- |
| KOK-1010T | M10/P1.25 Neck length 50mm |
| KOK-1011T | M10/P1.25 Neck length 55mm |
| KOK-1012T | M10/P1.25 Neck length 60mm |
| KOK-1013T | M10/P1.25 Neck length 65mm |
| KOK-1014T | M10/P1.25 Neck length 70mm |
| KOK-1015T | M10/P1.25 Neck length 75mm |
| | |
| --- | --- |
| KOK-1019T | M8/P1.25 Neck length 35mm |
| KOK-1016T | M8/P1.25 Neck length 40mm |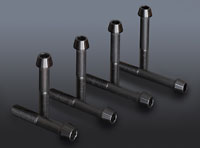 Stainless steel taper cap bolts Black X-coated (2-piece set)
| | |
| --- | --- |
| KOK-1010TBK | M10/P1.25 Neck length 50mm |
| KOK-1011TBK | M10/P1.25 Neck length 55mm |
| KOK-1012TBK | M10/P1.25 Neck length 60mm |
| KOK-1013TBK | M10/P1.25 Neck length 65mm |
| KOK-1014TBK | M10/P1.25 Neck length 70mm |
| KOK-1015TBK | M10/P1.25 Neck length 75mm |
| | |
| --- | --- |
| KOK-1019TBK | M8/P1.25 Neck length 35mm |
| KOK-1016TBK | M8/P1.25 Neck length 40mm |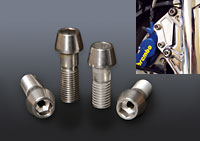 Stainless steel hollow taper cap bolts (2-piece set)
| | |
| --- | --- |
| KOK-1017T | M10/P1.5  Neck length 25mm |
| KOK-1018T | M10/P1.25 Neck length 30mm |
Shim plates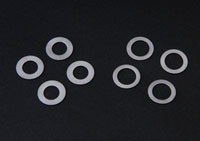 Stainless steel Shim Plates (4-piece set)
| | |
| --- | --- |
| KOK-1020 | M8×15.5×0.5 |
| KOK-1021 | M10×15.5×0.5 |